© Gary Van Wyk / The Ginkgo Agency / Whiskas / WWF-UK
These Women are Tiger Protectors
On International Women's Day, we're celebrating three women who dedicate their lives to protecting the world's remaining wild tigers.
In just 100 years we've lost more than 96% of the world's wild tigers. There are now an estimated 3890 tigers in the wild, up from as few as 3,200 just seven years ago.
From campaign leaders to rangers in the field, these women are a part of the global Tx2 movement to double the number of wild tigers by 2022 – the most ambitious and visionary conservation goal ever set.
Sangay Wangmo
Sangay Wangmo spent the last 13 years of her life protecting the pristine forests and wildlife of Bhutan, while bringing up her daughter as a single mother.
Now Senior Forest Officer in the Sarpang Forest Division of Southern Bhutan, Sangay is a recognised and experienced ranger in this challenging line of work. Her work requires her to deal with illegal logging and engaging local communities to be part of protecting forests, where she leads by example and character.
To protect wild tigers and their homes, Sangay has learned to be tough in her work, and this has made her strong in her personal life too. Her daughter is now 16 years old, and Sangay has a wish for her.
"I hope my daughter will join the forest department as a park manager one day. And that she will grow up to be strong and independent too."
© DoFPS/ WWF-Bhutan
Sangye Wangmo monitoring tracks in the forest
© DoFPS/ WWF-Bhutan
Part of Sangye's mission is to break the tiger trade
Durga Gole
Durga Gole, 22, from Makwanpur, Churiyamai VDC was mocked and taunted by her fellow villagers for patrolling the forest and protecting local natural resources.
"They used to demoralise and challenge me, telling me that they had cut trees to see whether I would dare to file a complaint to the police," reflected Durga.
That was years ago. Today things have changed in Churiyamai.
With a group of 23 women, Durga marches forward as the secretary of the 'All Women Anti-Poaching Unit' for regular patrolling of the Churiyamai Forest. She is currently also a youth leader in her community and is active in encouraging and mobilising women's participation in conservation and anti-poaching activities. The unit coordinates with local officials to report illegal activities. They have also started a microfinance cooperative to lend money to women interested in alternative livelihood options to reduce pressure on the forest.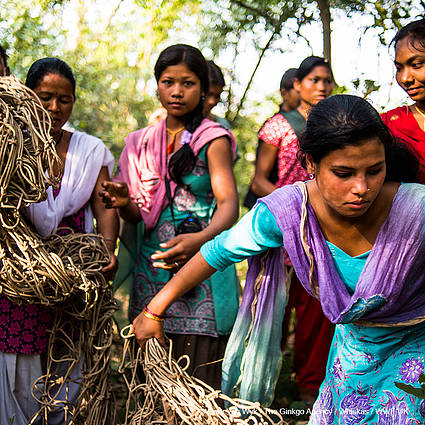 © Gary Van Wyk / The Ginkgo Agency / WWF-UK
Women from the community patrol remove snares and nets
© WWF-Nepal
Durga receiving an award for being a conservation hero
© Gary Van Wyk / The Ginkgo Agency / WWF-UK
Elephant spotted in Durga's area of work!
Intan Mawarwati Sukarna
Intan Mawarwati Sukarna raises the plight of wild tigers where awareness of the problem is low.
Together with her team at WWF-Indonesia, she rallied the country to support wildlife conservation and make sure tigers received the well-deserved attention that wasn't present before. Intan wants to save the big cats…starting with changing the small things in life.
Her work extends from campaigning in Indonesia's megacities to improving community livelihoods on the ground.
"The proudest moment with WWF was when I went to a deserted island that wasn't even mentioned on the map," Intan shared.
"I talked to local people and during our conversation, they thanked WWF for improving the quality life in the island and at the same time protecting the nature."
"It was a very heartfelt moment and very humbling. It really means a lot when you know what you are doing actually has an impact on someone's life."
© WWF Indonesia
Intan's creativity has helped to start campaigns and movements for wild tigers
© WWF-Indonesia
Indonesians compete in run4tigers marathons to show their support
© WWF-Indonesia
The Sumatran tigers are the only tigers found in this island.