© Nitish Madan @Nitish.Madan
Looking to the past to secure the future
India: Looking to the past to secure the future
India's story of tiger recovery is one of astonishing hope: from 2006 to 2018, the estimate for tigers in the wild more than doubled with the latest estimate from the Wildlife Institute of India of between 2,600 and 3,350 individuals, which is roughly three-quarters of the world's tiger population.
Thanks to the commitment of the government and conservationists and the participation of communities, tigers have been enabled to survive in human-dominated landscapes, and helping to secure critical ecosystems.

© Nitish Madan @Nitish.Madan
As well as being home to the majority of the world's tigers, India is home to a human population of 1.3 billion. With a number of India's tiger reserves monitored since 2006 now holding tiger populations above carrying capacity, this presents a complex set of challenges ranging from loss of tiger corridors, habitat degradation to managing human wildlife conflict. Tiger landscapes overlap with those inhabited by people, bringing communities right to the heart of tiger conservation.
This is because humans and tigers overlap in extensive areas of tiger habitats and corridors, with communities relying on forests for fuelwood and other essential resources for their sustenance. Finding alternative solutions that improve community livelihoods and allow nature to flourish is crucial.
One solution comes in the form of green enterprises and alternative income generation opportunities. These can alleviate excessive dependence on critical forest habitats, and help to garner active support for tiger conservation in the long run.
Situated in the Pawalagarh Conservation Reserve in the buffer area of Corbett Tiger Reserve, the Ramnagar Forest Division and Kotabagh areas constitute part of the Kosi-Baur wildlife corridor. This corridor serves as a critical buffer zone for the wildlife of Corbett Tiger Reserve in the Terai Arc Landscape. This region in the Indian state of Uttarakhand includes vast tracts of undisturbed forests but is also dotted with numerous villages.
In six of those villages, an initiative called Hameri is supporting livelihoods and helping to garner support for tiger conservation in the long run. This women-empowerment focussed micro-enterprise capitalises on traditional knowledge of the rural women, building their capacity to set up green enterprises selling traditionally produced food products such as pickles, juices and jams.
© Mohan Chandra Badhani

Damayanti Bisht is part of the WWF-supported micro-enterprise which has been running since 2014 and now sells its food-standards approved products via improved market linkages.
© Preeti Joshi / WWF India

"Ever since our self help group has begun promoting our products under the Hameri brand, there have been several benefits. We've been trained on various food processing activities using locally available organic produce while avoiding food waste. The Hameri products are of high quality, for good health and good taste. What's more, our efforts to augment livelihoods of local communities here have been appreciated by the Uttarakhand Government," says Damayanti.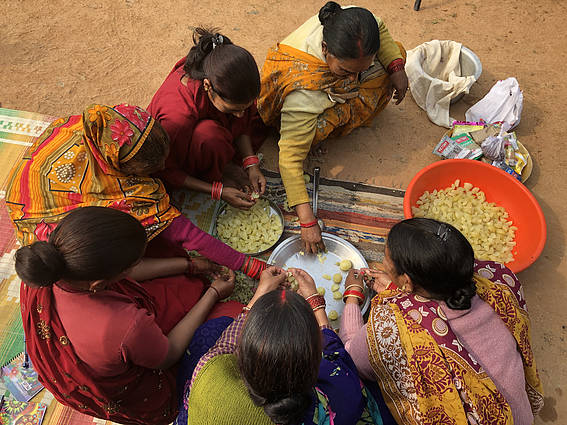 © Nishant Andrews
© Nishant Andrews
Such innovative solutions help garner community support and active participation in conservation initiatives to secure the tiger bearing forests of the Pawalgarh Conservation Reserve in the Ramnagar Forest Division in the long run. In the case of the Hameri group, it is also helping to preserve the traditional food processing knowledge embedded in the culture of the Terai region.
Over four thousand kilometers to the south, in the Sathyamangalam Tiger Reserve in the Western Ghats, a community-based organisation is demonstrating how traditional knowledge from the past can help secure tigers in the future.
© Steffan Ajay/ WWF India

Balan is a member of Thalavady Adhivasigal Munnetra Sangham or TAMS - a community-based organisation which advocates for traditional practices to be integrated into conservation efforts. He belongs to the Urali tribe who have been living in the Sathyamangalam forests for generations, coexisting with nature and wildlife. Tigers were reported to be near extinction in Sathyamangalam in the early 2000s. Today, the reserve supports nearly 50 adult tigers and young tigers are increasingly dispersing into surrounding habitats.

The Urali tribe's close relationship with the forest is reflected throughout their cultural narrative, and tigers and elephants play an integral role. In the temple festivals of the Uralis, various representations of the forest and the wildlife are displayed. Figurines of tigers and elephants form part of their worship and festival processions. Every sacred site has a tree that's considered auspicious and venerated. The Uralis also worship water sources, rivers, springs and mountain peaks. While venturing into the forest to collect small forest produce, a small prayer is sent as a gesture to seek the permission of the 'Vanadevathai', the guardian angel of the forest to share the resources the forest offers.
© Steffan Ajay / WWF India
© Jothi Ranjan
© Steffan Ajay / WWF India
© Steffan Ajay / WWF India

In Sathyamangalam, WWF-India has been closely engaging with the Urali tribes, to help secure access rights to traditional sacred sites inside the forest. WWF-India and TAMS together have studied and documented sacred sites belonging to indigenous tribes in Sathyamangalam and are currently working on a better management proposal of these sites, so that the rights of access and worship of the Urali tribe can be protected.
"Representatives of tribal people should be consulted during the implementation of the rules and regulations by the forest department. If the traditional knowledge and practices of the tribal people are applied in conservation, the outcomes will be positive," says Balan.
India's tiger population has reached a critical juncture in history - and the species' future. With so many people and a growing tiger population in many areas, it is more critical than ever that communities are front and centre of tiger conservation efforts to ensure that the people who share their home with tigers benefit from their protection. Indeed, with communities as our partners, we may find that the answer has been there all along.
TX2 is the global goal to double wild tiger numbers by 2022, the next lunar year of the tiger. While some tiger range countries have made significant progress, this big cat still faces threats from poaching and habitat loss and fragmentation. In Southeast Asia, a snaring crisis is decimating wildlife, impacting tigers and their prey. WWF is working with partners, governments and communities to secure the future for tigers in all tiger range countries, and to reintroduce the tiger to its historic range in Kazakhstan and Cambodia.
© Diane Walkington / WWF-UK