© Sumanth Kuduvalli / Felis Creations / WWF
Over 300 of the bravest men and women on the planet from 46 countries will be gathering at the World Ranger Congress in Colorado, USA. We are taking this opportunity to shine the spotlight on Asia's wildlife heroes – the people on the frontline in the battle against a poaching crisis that threatens the future of Asia's wildlife and wild places.
Nepal recently marked its 4th year of zero poaching of rhinos since 2011. Bishnu Prasad Thapaliya, who has worked to conserve the country's wildlife for 17 years, explains how Nepal has achieved this remarkable success. And why the World Ranger Congress from May 21st – 27th 2016, which he is attending, is such an important event.
MASRIZAL - Indonesia
Masrizal works in an incredibly unique place; one of the only protected areas in the world that is home to tigers, elephants, rhinos and orangutans. Gunung Leuser National Park spans 7,927 km2 of mountainous rainforest in the North of the Indonesian island of Sumatra. The area is home to around 100 Sumatran tigers – a significant number given that there are estimated to be as few as 400 of the critically endangered big cats left. Tiger poaching is a significant problem, along with encroachment which destroys crucial tiger habitat. Masrizal works for the Orangutan Information Center, a non-profit dedicated to protecting the Orangutan. He works with community-based forest patrols to help protect and secure this important park.
© Marsizal
Marsizal - Orangutan Information Center
© Alex Walsh / WWF
Sumatra Landscape
© WWF-Indonesia
Sumatran Tiger Camera Trap
SANGAY - Bhutan
Sangay works in the newest protected area in Bhutan – a Himalayan country that is home to the highest altitude tigers in the world! Over 50% of Bhutan's natural places are under some form of protection. Sangay is the warden of a Jomotshangkha Wildlife Sanctuary, a park that borders India, covering 335km2 of important wildlife habitat. During Bhutan's first ever national tiger survey, camera traps documented one resident tiger in this area. Sangay is currently overseeing the production of the park management plan.
Support our #wildlifeheroes!
Spread the word on social media, read individual ranger stories and stay up to date with news from the field – visit the Ranger Federation of Asia (RFA) website.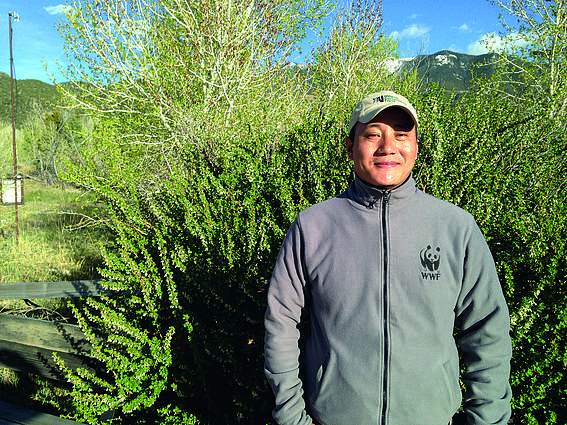 © Sangay/WWF-Bhutan
Sangay
© DofPS
Bhutan Tiger
© Tashi Tshering / WWF-Bhutan
Bhutan Landscape